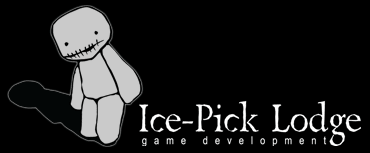 Ice-Pick Lodge is a game developer based in Moscow, Russia. They were created in 2002 and currently have a small number of finished projects - Pathologic, The Void, Cargo! - The Quest for Gravity, and Knock-Knock.
The first two games were awarded a prize for The Most Non-Standard Game at the Russian Conference of Game-Developers KRI in 2005 and 2007, respectively. The games also received high ratings in popular gaming magazines in both Europe and Russia.
The studio's approach to the gaming process is original and distinctive, because it allows a person to feel, experience, and comprehend the borders of the game, its form, the dialogue of the game and the gamer. If we are making a new kind of game, our addressee isn't the consumer. He is the co-author.
Current members
Edit
Nikolay "Based Nik" Dybowskiy — Founder of the studio, CEO, lead game designer and writer. (2002-)
Natalya Kasitskaya - Programmer. (2011-)
Petr Potapov — Art director. (2002-)
Meethos - Art and visual style. (2002-)
Eugenia Romantseva - Art. (2013-)
Airat Zakirov — Technical director, lead logic programmer and project manager. (2002-)
Vasiliy Kashnikov — Sound director and composer. (2006-)
Vnastasia Baigusheva - Assistant. 
Former members
Edit
Aleksey Bakhvalov — Lead engine programmer. (2002-2011)
Igor Pokrovskiy — Level designer, texturer, beta-tester and all-purpose developer. (2002-2011)
Andriesh Grandabur - Composer (2002-2006)
Aleksander Jukov — Character modeller. (2002-2011)
Aleksey Luchin — Programmer, translator (starting from The Void), community manager and all-purpose developer. (2006-2011)
External links
Edit